Cigar Tools
The shipping calculator on the webstore leaves a lot to be desired. These cigar tools usually ship in a USPS small Priority mail box for a little over $5. The shopping cart will automatically add extra shipping, but we refund the difference back when shipped. Sorry for the inconvenience, but it is a very limited shipping program.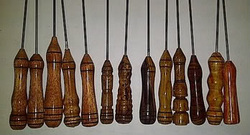 A variety of shapes for the handles. Hand made so each one is a little different. In the case of the Draw/Nubber sets, care is taken to get as close a match as possible.
---

Cigar Draw Tool
Micro-File Tip Draw tool in Exotic or Domestic Hardwoods and Stainless Steel. Each draw tool measures approximately 7 inches. The micro-file tip allows slight removal of tobacco helping to prevent stubborn draws from closing back up. See our Hardwood selection below and specify your choice when ordering. Handmade at our shop.