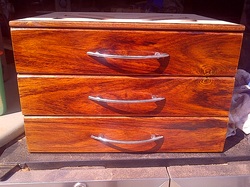 There is a large variety of Domestic & Exotic woods that can be used for the fronts of the drawers and shelves. Pictured above is an Edgestar 28 set done in Cocobolo.All items are custom built and normally ship in approximately 5 weeks. Longer lead times can occur due to extensive workload.


Edgestar/Koldfront 28 Spanish Cedar drawer with False Front
A regular dbl drawer but the drawer front extends below drawer to help conceal humidification elements usually located on the bottom of the cooler. Similar to bottom drawer in picture here. *Please note when ordering hardwood upgrades, these drawers count as 2 pcs.